Scheduling a video visit with your provider through Bailey Medical Center MyChart is easy and can be scheduled 48 hours in advance. Log in to your MyChart account and follow the steps below, or you can call 918-579-DOCS (3627) to schedule.
1. Select Visits at the top > Schedule an Appointment.

2. Click Schedule an Appointment button.

3.Choose a provider to schedule an appointment visit.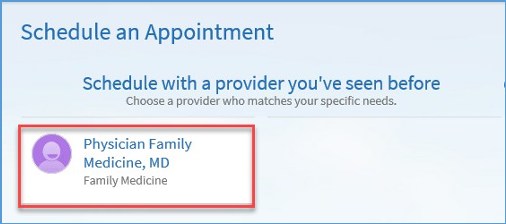 4. Select Video Visit for the type of appointment.

5. Select an appointment time.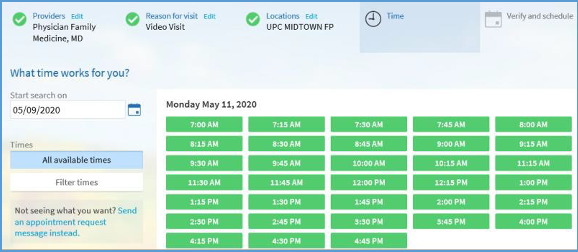 6. Enter what you wish to have addressed in this visit and click schedule.

Log into MyChart 5-10 minutes prior to your appointment to complete eCheck-in. During eCheck-in, you will confirm your personal information, payments, medications, allergies, health issues, travel history and answer questions.
Prior to the video visit, you will pay your copay. Similar to an in-person appointment, the cost for video visits with your provider depends on your insurance. Some plans have waived the copay or reduced your cost for virtual video visits.
Once eCheck-in is complete, you are ready to start your video visit. Like an in-person visit, you may experience a short wait until the provider joins.
Language translation and sign interpretation is available if requested for video visits. The interpreter will receive a link or a phone number and be able to join the patient at the time of the appointment.